Reflexology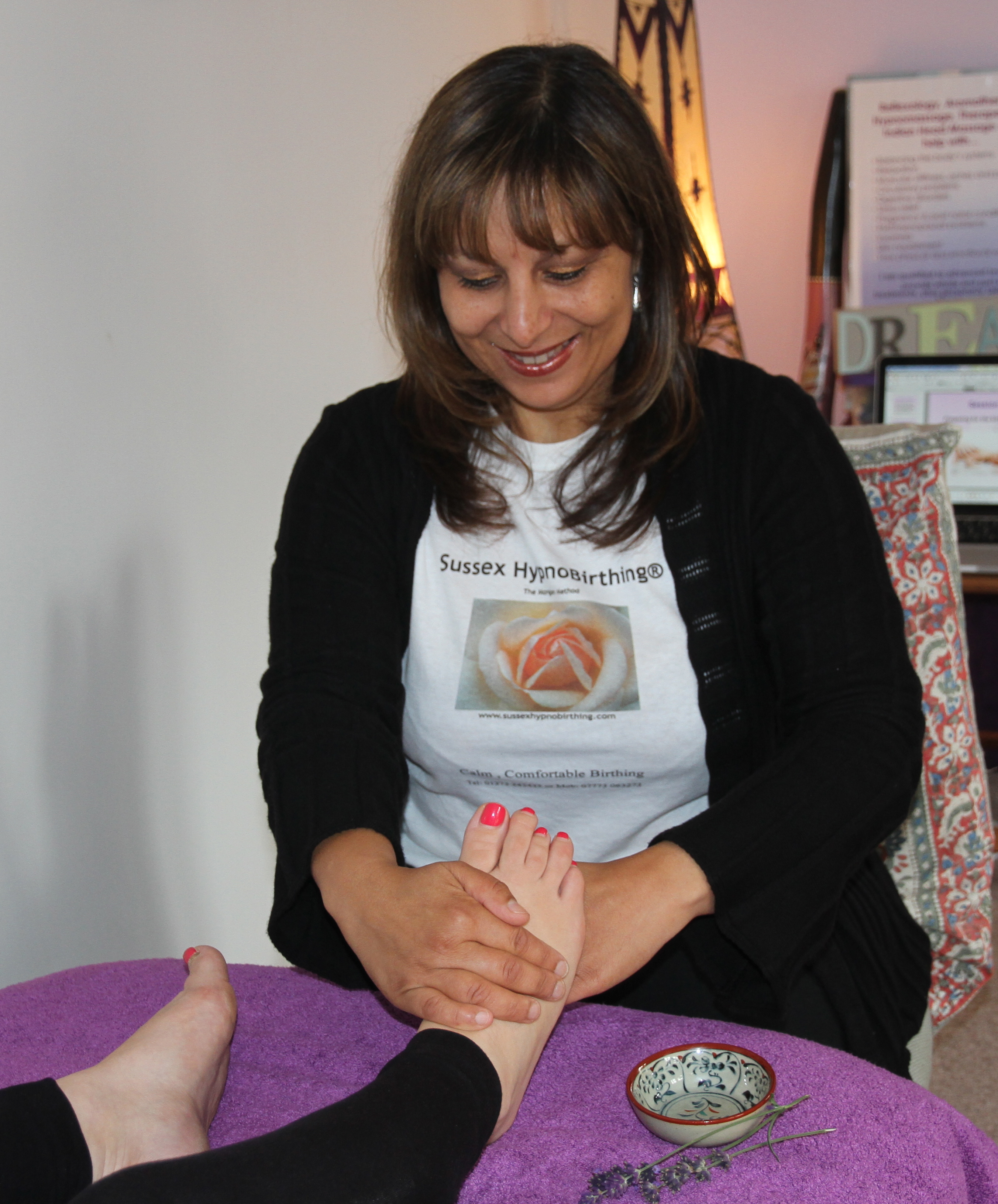 CALMING, SOOTHING, RELAXING, STIMULATING, INVIGORATING - just some of the words used by clients to describe Reflexology. Depending on your reasons for a session, it can be all of the above.
This non-medical, therapeutic modality is suitable not only during pregnancy but at any time both for adults and children. Believed to originate in China and Egypt around 4000 BC, modern western Reflexology was pioneered by Dr William Fitzgerald who called it Zone Therapy and drew it to the attention of the medical world between 1915 and 1917. In 1915 his article entitled "To stop that toothache, squeeze your toe" was published in "Everybody's Magazine", written by Edwin Bowers, first brought Dr Fitzgerald's work on Zone Therapy to public awareness.
Based on the Chinese model of meridians and acupuncture/ acupressure points, physiotherapist Eunice Ingham (1889 – 1974). extended the work of Dr Fitzgerald and mapped the feet with all the corresponding organs and glands of the body. This is now the basis of modern Reflexology.
Treatment Sessions
A typical foot reflexology treatment lasts 45-50 minutes and depending on any issues that you may want help with, a course of 4-6 weekly treatments may be recommended. The frequency of treatments of course is up to you, and may vary depending on your state of health and long term objectives.
Reflexology is a widely accepted complementary therapy in the UK and recognised by the NHS, many GP's and hospices. It is safe for people of all ages, from babies to the elderly, for pregnant women and those undergoing chemotherapy.
IMPORTANT: Reflexology works very well alongside conventional medicine, but should never be used in place of seeking professional medical advice for any medical issues.
Reflexology is a unique modality in the health field. It's purpose is not to treat or diagnose for any specific medical disorder, but to promote better health and well being in the same way as an exercise or nutritional programme.

REFLEXOLOGY FOR FERTILITY, PRE-CONCEPTION & PREGNANCY
There are many uses for Reflexology for fertility issues and in pregnancy.
Fertility & Assisted Conception Support
If you are experiencing difficulties in conceiving, it is important to consult your GP/Consultant so that all relevant tests can be carried out for both partners, and a diagnosis made regarding the cause of fertility problems.
Based in Chinese Acupuncture, Reflexology has been seen to assist both women and men in their quest to become parents. Reflexology has many uses and amongst the effects are deep relaxation, stress reduction and balance of the body's metabolism, all of which are crucial for those whig to conceive both natural or via medical assistance such as fertility medication or IVF. I also recommend some Integral Eye Movement Therapy (IEMT) and Hypnotherapy to remove any unwanted emotional issues, so that the mind and body can connect in a positive way to enhance the body's natural ability to conceive. Hence this provides a holistic approach to treatment.
In the Media:
http://www.dailymail.co.uk/health/article-20980/Is-reflexology-new-cure-infertility.html
http://www.bbc.co.uk/devon/community_life/features/ivf_reflexology.shtml
PREGNANCY & BEYOND
Wether you wish to pamper yourself, relax, improve your general well being or help deal with changes in hormone balance, Reflexology is a complementary therapy recommended from the second trimester of pregnancy onwards to assist with your pregnancy and birth and also for post pregnancy wellness.
Reflexology is extremely relaxing and as a qualified Hypnotherapist, I perform treatments at times in conjunction with guided relaxation and visualisation called Hypno-Refelx. This can really help improve an and change some of the emotional and physical issues that may arise during pregnancy, such as special circumstances that my alter the course of birthing. Evidence has show that Reflexology and Hypnotherapy can help reduce increased blood pressure, help turn breech presentations and some assist with other positive physical changes. I helped my sister to turn two breech presentations at 38 weeks, who then went on to have natural Hypnobirths.
Many women adjust perfectly to the hormonal changes that are taking place during pregnancy. However, if some of the physical and emotional side effects of these hormonal changes cause issues such as anxiety, backache, digestive problems, hyperemesis, nausea, restless leg syndrome, sleep issues, symphisis pubis discomfort, tension, regular treatments may help ease these ailments commonly associated with pregnancy.
Reflexology may also assist with preparing he body to release the appropriate hormones for birth as it helps to release stress hormones and allow the body to release feel good hormones such as endorphins and oxytocin.
The qualities of Reflexology and Hypnotherapy are excellent for creating a balanced body and mind creating the ideal environment for the growth and nurturing go your new baby.
If you would like to benefit from Reflexology or Hypno-Reflex during your pregnancy or after, please contact me on:
M: 07773 063273 or T: 0151 512 2961