Testimonials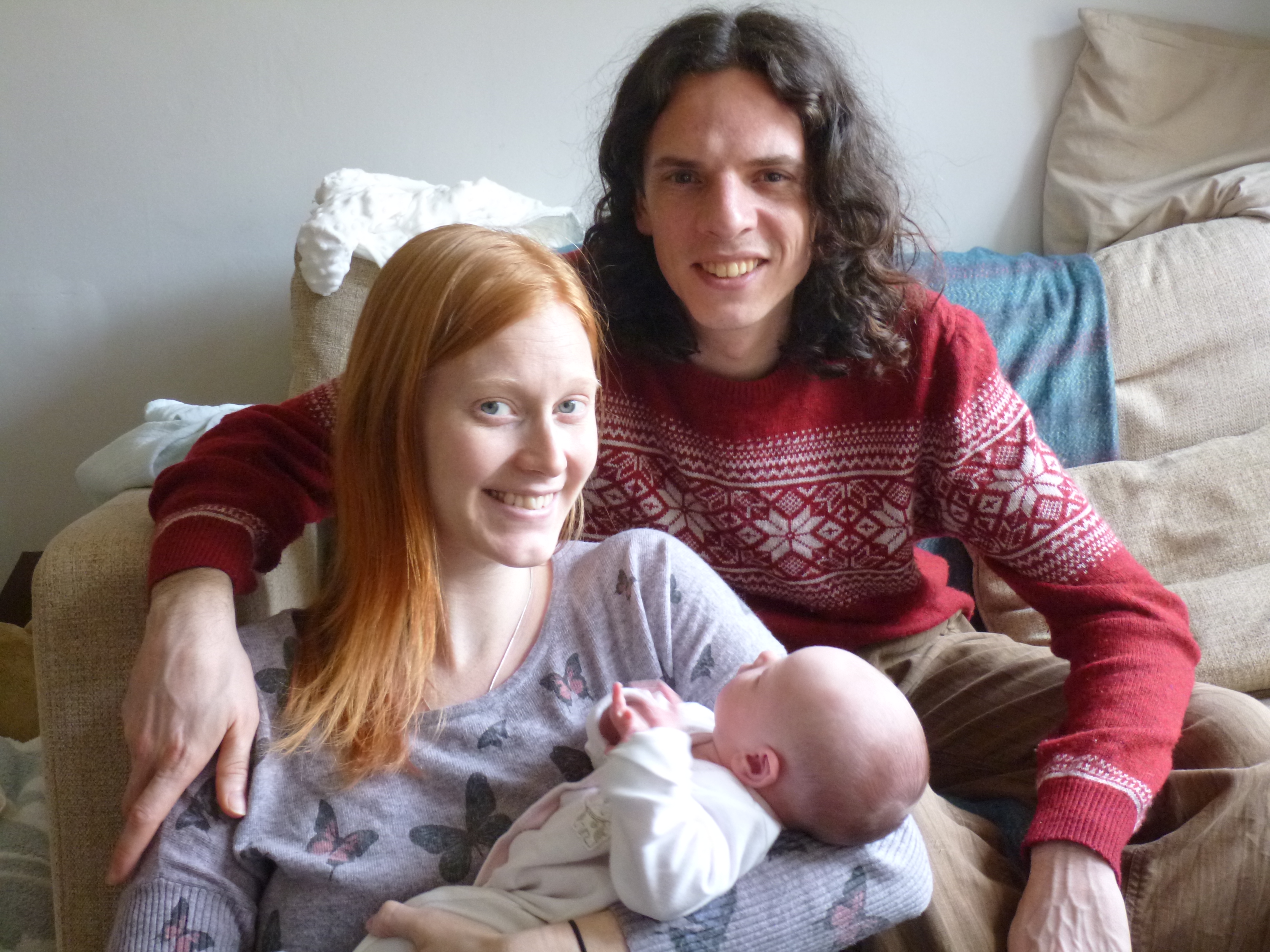 Katie & Leroy
Katie's water's released on the Tuesday afternoon and called me Wednesday afternoon as her surges has not fully established. I asked her to do the Miles Circuit and then I went to their home early evening home to give Katie some acupressure and reflexology.
Hi Sonia
Sienna  was born at 5.05am on Thursday 22nd, weighing 7.9lbs at home in water. She was chilled the whole way through the labour, fed straight away and is a very content little girl indeed.  The reflexology really helped get my surges into a progressive way. So many thanks once again for your services.
I really feel Hypno Birthing is the way forward. I had a drug free birth, as I wanted and feel it was definitely because of my positive mind set. Filled from all the useful breathing and relaxation techniques which helped make me see my experience as very manageable at each stage of labour.
It's left me feeling totally satisfied  with my birth experience.  Especially as it was my first birth too. I knew in my heart that the course was the way forward and dread to think what sort of experience I would of had if I hadn't decided to own my experience.
I feel like the relaxation techniques will be something I'll have for life now.
Just thank you.
With love from Kate and Leroy.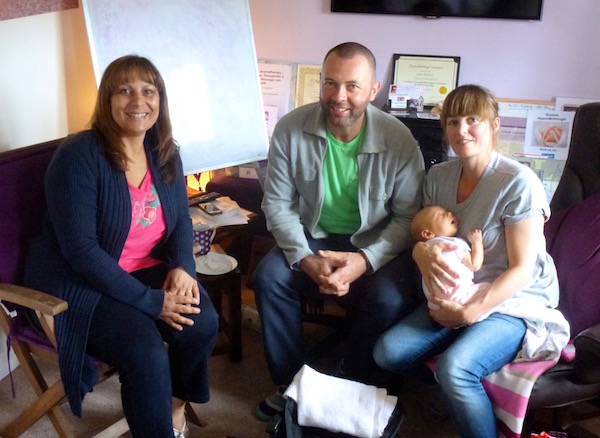 Carla & Phil & Holly
Hi Sonia
Thanks for your email, we have been meaning to get in touch - it has been a busy 2 weeks!
Everything going really well thanks. We had a gorgeous little girl named Holly Blue and absolutely love her.
Birth was great, everything we could have wished for and a relatively easy labour too - quite an experience!
We stayed at home all morning (after I emailed you) and then went to our routine midwife appointment at 3pm to find that I was fully dilated! Quite a surprise as we had no idea we had progressed that far! We ended up being taken to Worthing Hospital and she was born 2 hours after our arrival!
We had a lovely water birth with no 'pain' relief at all. The midwives were fantastic and respected our birth plan fully - the room was dark and quiet and the water was instantly relaxing and I birthed her in an upright position which was great. We delayed the cord clamping until it stopped pulsating and managed to feed her immediately. She was born awake and alert and so calm. Everything we could have hoped for and more.
We managed to use the deep breathing techniques throughout the early stages of labour and the during the birth which really helped me in remaining calm and focussed. Phil was amazing and kept reminding me to breathe so in between surges I was very peaceful & calm. I also had complete clarity in my mind whilst my body was doing its own thing. My surges weren't as silent as your hypno videos showed - I was like a primeval animal roaring haha but it wasn't through pain as such, but it was more an instinctive release and really helped. Unfortunately I think I could be heard along the corridor!
Thank you so much for all your help - not just for the deep relaxation techniques but making us aware of all the other choices available to us to make the birth as lovely as possible for us and our baby.
Thanks again,
Carla & Phil (& Holly) xxxx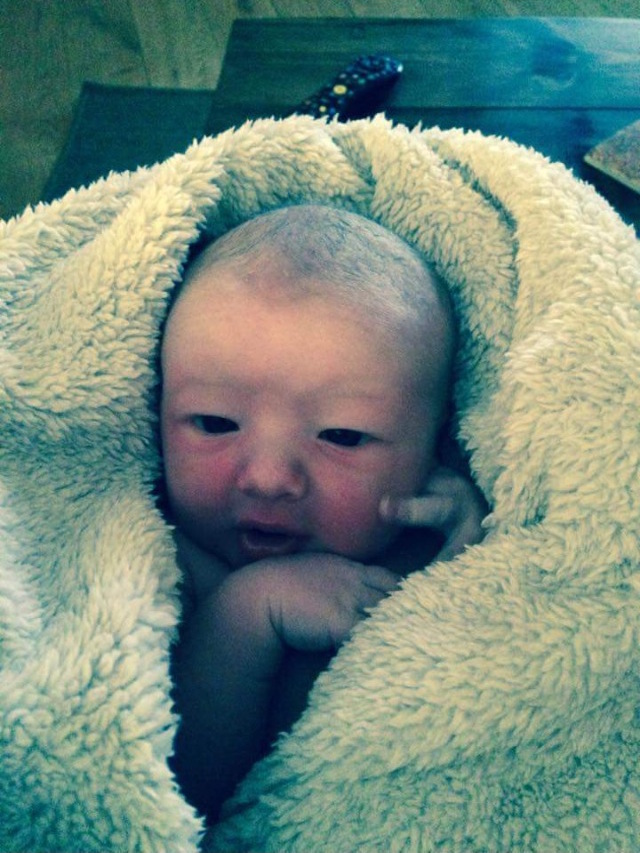 Amy, Daryl and Arlo X
Hi Sonia,
Very pleased to let you know that our little guy arrived Sunday evening 15th feb, safe n sound at home and born in a pool with NO INTERVENTION WHATSOEVER... Woohoo! Weighing a healthy 7'11.
The whole labour only lasted 9 hours and we used our hypnobirthing breathing and affirmations- drugs actually didn't even cross my mind as I just trusted in my body and baby. Amazing experience!
Thanks so much for teaching us these techniques! I've been singing your praises!
Love
Amy, Daryl and Arlo X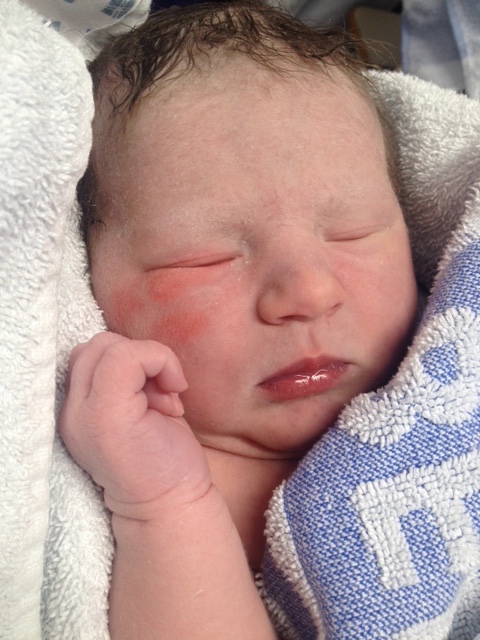 Pippa, Matt & Evangeline
Hi Sonia
So the baby was due around the beginning of March.
Tuesday 17th was to be my last day at work. Wednesday evening Matt and I took some bump pictures, as we didn't have any of the two of us together.
We went to bed at 1am Thursday morning, at 4.20am my waters had broken.
Midwife was called and told me to lie down for 40mins and to focus on the baby.
I tried doing that, but by 5am my surges were 4mins apart.
I focused on my surge breathing, but had little chance to get into a deep relaxed state as it all progressed so quickly. 
Called the midwife again, as 45mins after my waters broke, my surges were 3 mins apart, they told me to lie down for an hour, but we decided to head into the hospital.
Once we had arrived they pottered around for 20mins, whilst I did my surge breathing.
Eventually they got round to seeing me and monitored the baby, my cervix was fully open by then and Evangeline seemed rather keen to come into the world.
We got moved to a private room, whilst the midwife filled the birth pool and I breathed through my surges.
Took another 20mins for the pool to fill, once we got into the pool, whilst breathing, my body felt the urge to push.
Matt saw her head appear, then came and helped me focus on my breathing.
10 mins later our beautiful daughter came into the world.
We waited until the cord had stopped pulsating, then Matt got to cut it.
It was amazing. And rather quick!!
Thank you for your help. It alleviated the fear I'd had of giving birth.
We did it!!x
Pippa, Matt & Evangeline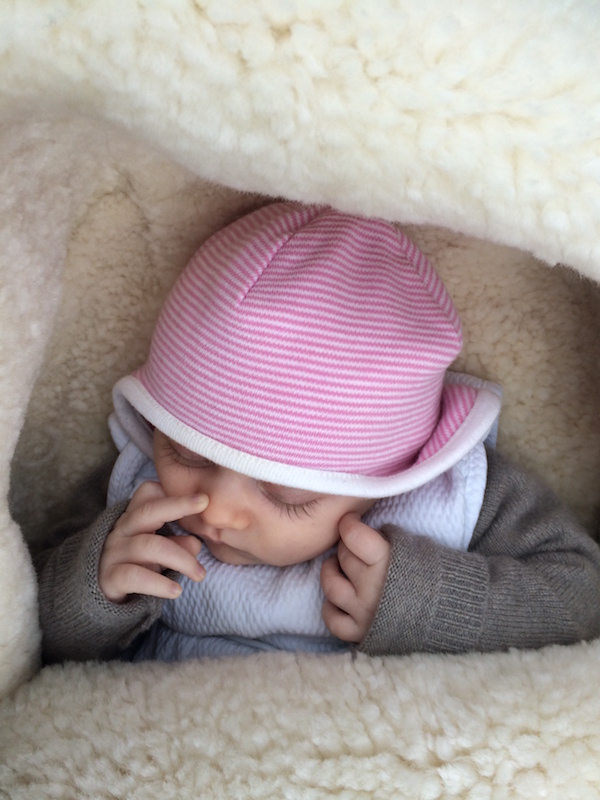 Rosie
Hi Sonia,
Happy New Year to you! Thank you for all your help in the hypnobirthing course last year. Our Jasmine was born on 25th November weighing a healthy 8 lbs 3 oz.
We were at home for the majority of the birthing and then went to hospital for the last 3hrs where she was turned so she could birth easily. The whole experience was beautiful and Sam helped me all the way through with all that you had taught us. Despite being in hospital for the birth jasmine was so calm when she birthed, her colour was totally as she is now and she took her first gentle breath on my chest.
So, thank you for all your assistance. Lucy and Nick gave birth to their beautiful Lottie and we are all in touch which is a lovely additional benefit to having attended your sessions.
Thank you and wishing you all the best for the New Year.
Best, wishes
Rosie x
Rebekah & Craig
Becci had a traumatic first birth. We did a session of IEMT and Hypnosis to remove her fear and anxieties about her forthcoming birth. Then we did some HypnoBrthing techniques. I didn't see her until she was 37 weeks pregnant. Hi Sonia Little Autumn Adelaide arrived at 18.57 on 19th November weighing 8lb 3oz. She's a little dream and Amelie is loving being a big sister. She was born at home in the water. The IEMT session that I did plus the Hypno Birthing that we both did with you was hugely successful and extremely useful. It was all very smooth and manageable and totally different to my first labour. We got everything we wanted!!! Thank you so much for all your help and advice. Kind regards, Rebekah x
Jane & Richard
"I was terrified of giving birth and I had read in a local magazine that Steve and Sonia Griffiths did Hypno Birthing classes. We decided to give them a call. Richard thought initially that it would be a little airy-fairy but he knew how I felt and supported me. We had very relaxed and informal sessions with Sonia. We were given CD's and a book and lots of great advice which gave us the confidence to have a wonderful birthing experience. I had a lengthy labour but was transferred to hospital due to meconium. I was administered Syntocin. Even with this at no stage did I feel the need for pain relief. As a result Scarlett opened her eyes immediately and breast feed within 20 minutes. We can not thank Sonia enough. If you're scared like I was, give it a go... it works."
Chloe's Experience
"Our first daughter was born after an emergency c-section and, though I wanted a natural birth for my second, I had lots of doubts about whether it was possible. Hypno Birthing gave me both the confidence and the practical techniques I needed - before and during the birth - to keep calm and positive. Our second daughter was born naturally, at home, after just two and a half hours of active labour. It was a fantastic experience and a world apart from my first birth. I can't recommend it highly enough. After a very positive birth I am convinced that Hypno Birthing works – but quite how it works is difficult to explain until you've been through it. That's why it's so important to be taught by someone who is not only experienced in all aspects of birthing but who is also grounded and practical. The classes are both useful and good fun. I would recommend them to anyone who wants a positive, intelligent preparation for birth. "
Selina
"Having had four uneventful (if painful and depressing births, two with epidurals). I decided to go to the class feeling more that it couldn't do any harm rather than that it would be extremely useful. I had been having irregular grumblings all day. Went to bed and woke up at 1am with much stronger surges(contractions). I put my Hypno Birthing CD on and breathed through each surge and was relaxed enough to sleep in between rather than start panicking about the next one coming. At about 7am my husband (Henry) took the two younger children to a friend's and left me on my own. I felt that it was all very manageable with my CD reminding me of my positive affirmations. Henry decided at 7.45 that things were moving very quickly, although I had no sense of this, and he decided to call the midwife. At no time did I feel the awful climb up to the peak of the surge I seemed to move easily from peak to peak making me believe that they were coming 5 or 6 minutes apart when in fact they were coming every minute! I was still breathing my muscles away from the uterus and focusing on my affirmations when my waters broke and I started pushing. Fifteen minutes later, William Arthur was born weighing nearly 9lbs. It was fantastic, wonderful. I think everyone should do Hypno Birthing!
Jenna's Experience
"I have never considered myself to have a very impressive pain threshold and my previous two births had been long and painful. I laboured well until 6cms and then lost the plot and became scared and overwhelmed. When I discovered I was pregnant for the third time I knew I wanted things to be different. We practised breathing and relaxation techniques as well as various forms of positive relaxation. Between sessions I listened to my CD and read the book. Throughout the course I greatly surprised myself by feeling confident that I could enter the previously elusive realms of those who have a natural birth. That feeling was still with me when I went into labour. The surges were strong but never overwhelming. The next hour and forty minutes are a bit hazy. I don't remember how the surges felt but I know they were intense and close together, I don't remember how I communicated with my husband but I know that he was always there with me. I don't remember how many people were in the room but I do remember entering into what I can only describe as a different level of consciousness, where the only thing that mattered was working hard through the surges. The breathing and visualisation techniques were invaluable…unbelievably so. I felt relative calmness in the intensity of labour. My husband looked at me with all the wonderment that we feel at such an extraordinary moment and said, ' Wow. That was the real thing'. I surprised myself. I surprised my husband. We had a pretty amazing birth together. It doesn't get much better than that!
Aleksandra & Joshua
Hi Sonia, I hope this find you and Steve well.  I am sure you will remember us! Aleksandra and Joshua Harrington. We attended one of your classes in Hammersmith. I had a baby in November, and it is a boy (Freddy). We used the HB method and I had a successful natural birth. I used the HB cd during the birth at the Hospital. It really helped me! I was in labour for 5 hours from the start to the end. I left home just before delivery. It was a truly amazing experience.  I am trying to recommend the course to friends and at the yoga class. I spoken to the yoga teacher and she asked me: to ask you guys to pass by sometime to talk about the course to the students. It is at the life centre in Notting Hill. I loved the experience of giving, birth and doing the HB. It really helped me to cope with the pregnancy and birth. I truly don't think I could have done without the HB. Thank you so much guys! Have a Great Christmas and New Year. Aleksandra, Freddy and Joshua
Angela & Nick
Hi Steve, Just wanted to let you know that I gave birth to a beautiful baby boy on Nov 30 (only 5 days late this time, much improved). I decided to have a home birth and bought a birthing pool....the whole thing went incredibly smoothly and I was really relaxed throughout using my breathing techniques really helped. I would never have believed that I would have achieved such a happy birth experience before I attended your hypnotherapy session on Oct 5, in particular I found I was able to completely disassociate any negative feelings from my previous experience and had full confidence that my body would work in the right way. In fact, because I was feeling very tired at nine months pregnant, looking after an active two year old, I was really looking forward to going into labour so I could relax with a clear conscience. Many thanks Angela, Nick, Honor & baby Luca.
Nina, & Stef
Hi Sonia, Sorry I've not been in touch before - we had a baby girl - Chloe, in November. We had a home birth in a birthing pool in the end, which was lovely. It was a bit of an extended labour though, with my waters breaking on Sunday night, and Chloe not being born until Thursday morning. I had to go into hospital 3 nights in a row to have the baby's heart rate monitored to ensure she was ok. Thankfully the staff at Winchester hospital were really supportive, and understood that I definitely wanted a home birth if at all possible & did all they could to facilitate that. The Hypno Birthing was fantastic & I managed to give birth without any drugs . The only thing that we diverged from in the birthing plan was pushing - the midwives gave me the requisite amount of time to breathe the baby down but didn't think I was making any progress after approx. 2 hours. Basically they said they would have to take me into the hospital if I didn't start pushing, so I pushed! Apart from pushing, things went smoothly. All in all, both Stef & I were really happy with the birth & very pleased with our beautiful daughter... Thank you for everything! Nina
Alex & Fred
I'm writing to introduce to you my gorgeous new Son Louis George Knight Maisto. He was born last Wednesday (St Georges Day!) and I just want to Thank and Praise Hypno Birthing and the guidance Sonia gave - as his Birth was amazing! At the hosp there was definitely a sense we were going to be perhaps turned home, and the midwife felt I was in the very earliest stage of 1st stage of labour. They then agreed to me staying Fred parked the car and I was moved to a different room from the birthing pool room to initially have a small bath until I was "nearer". I suggested I might get examined before getting in the bath (the choice was mine) as I was intrigued as to whether I was dilated. To the midwifes surprise I was 3cm. I got in the bath which was bliss and really focused back into the breathing. Here I really used it and totally zoned out. The midwife left us to it.  I think about 20 mins in and suddenly things felt very different and I suggested Fred get the midwife. To my complete surprise she said she could see the head and we didn't have time to even get out of the bath let alone get the birth pool filled! In about 5 good breaths I was handed a beautiful baby and we found we had a son! Fred even asked to cut the cord (he'd  not been keen before) and it was all done. The 3rd stage went without hitch and I even sat down and had an anatomy lesson with the midwife as we studied the placenta and she explained it all. So at 14.41 Louis was born much to the amazement of me and the midwife! And he weighed in at exactly 7lbs! Since then everything has been perfect - he is the most chilled out baby, really relaxed and happy. I am just so happy I chose to try out Hypno Birthing. Even if I hadn't had the 2hr 25 min fantastic labour I did - what mattered was I was equipped with all the choices and knowledge to feel positive and I wouldn't have had a clue how to deal with it without the techniques.
Emmeline & Jay
Hi Sonia, To let you know we had our beautiful little boy on Weds 16th July at 10.37pm. He was born at home, in water completely naturally (not even gas & air!), and he weighed in at 6Ib 8oz. After sleeping on it overnight, we decided to call him Reuben Harris Edward, which suits him perfectly. The birth was a wonderful experience and the Hypno Birthing techniques really worked well for us all. The midwives were amazed at how calm I was throughout. A few days on and we're all doing fine (quite tired, which we expected!). Minna is fascinated by her little brother so far and wants to kiss his head all the time which is very sweet to watch. Hope you are well, Lots of love Emm, Jay, Minna & Reuben xxxx
Zoë & Mark
I want to say a big big thank you for all the help, advice, knowledge and confidence you gave me in the course of my pregnancy. They Hypno Birthing techniques really gave me the best birthing experience I think I could possibly have had. I am already recommending it to everyone!! Lots of Love Zoë & baby Ronni xxx Hi Sonia Thanks once again. As a Chiropractor the physiology and the mind made perfect sense. We had the exact birth we wanted for our little girl. 2.5 hours from getting into the hospital! I have given your details to my best friend in London as they are now expecting. Best wishes Mark
Tess & Greg
Hi Sonia announcing the birth of our perfect little girl. Labour was brilliant. I can't say that I had any sensations that I would call "pain". Everything moved along smoothly until we reached hospital. They wouldn't believe that I was in labour, wouldn't examine me and sent me home. We returned an hour later, they finally agreed to examine me and saw the babies head crowning so it was panic stations by them!! However we remained calm, used the techniques and in about an hour and a half our baby was born. Thanks once again to you and Hypno Birthing, I couldn't have been so calm and relaxed without it and the baby is very chilled!! Tess & Greg x
Jack, & Annabel
Hi Steve, Annabel and I wanted to say thanks so much for the Hypno Birthing course we attended this September in Hammersmith.  Our son, Digby, turned up a month early, being born on 29th October.  Whilst not the home birth we'd been planning (due to only 36 week gestation) the Hypmobirthing worked a treat.  The hospital called me back in as Annabel was showing signs of labour at around 04:30 in the morning on the 29th, after they'd sent me home at 2am.  I returned to the hospital at about 5am and helped Annabel with her breathing techniques in the delivery suite.  Annabel did a great job with these; seeing was believing how successful they were in 'breathing the baby out'.  At 05:37 Digby popped out and the midwives (who were excellent) placed him straight on Annabel's chest. Digby is a very relaxed little baby and rarely does much crying. Thanks again for the course, and we hope that everyone else on it has such a pleasant experience as we all did; Digby included (hopefully I can speak for him there). Yours, Jack, Annabel and Digby
Jess, & Greg
Apologies also from me for the delay in replying. We gave birth to our baby daughter Maya on 1st June, 7lb 4 oz. My surges started gently around 8pm on 31st - My parents were round for dinner and I managed to keep it together whilst they were here.  They left at 10pm and by that point the surges were becoming more intense.  I relaxed by having a bath and using the breathing.  We called the hospital around 1am but the surges were irregular and they told Greg that this stage could go on for days and that I should stay at home.  By 3.30am, the surges were very powerful and around 3-4 minutes apart - I knew it was time to go into hospital.  They reluctantly agreed I could go in as they already had two women labouring and were short of staff! I arrived in hospital at 4.15am.  I was already around 6cm dilated.  On monitoring the baby's heart beat the midwife was concerned as it was irregular.  She called for the registrar who agreed the baby's heart beat was ectopic . Also, they told me that due to the risks now I would not be able to have a water birth which was really disappointing.  They wanted to break my waters to check they were clear and to attach clips to the baby's head internally to monitor her heart rate more accurately.   Luckily my waters broke naturally - the waters were clear and they agreed they would just continue monitoring her heart beat externally. I continued with the breathing but was finding it really hard to focus as I could still hear the baby's irregular heart beat on the speaker. Anyway, Maya was born within four hours at 8.16am with no complications and I avoided all pain relief.  The doctors checked her following birth and her heart beat was totally normal and there have been no concerns since. I am soooo glad that I did the Hypno Birthing as I would not have been able to cope without any pain relief without it.  Also, despite feeling scared for the baby's health during labour, the Hypno Birthing made me stay relaxed which is the reason for things progressing as quickly and smoothly as they did. I hope you are both enjoying motherhood and the boys enjoying being fathers.  We will let you know when we come over next as it would nice to catch up and meet your bundles of joy, Take Care Jess, Greg & Maya xxxxxxxxxxxxxx
Monique & Ash
Dear Sonia, Finally..... I have some time to get on the computer to send you the message that Ash and I had a little baby boy, we have named Indi, on May 3rd- 3.327am- 6.7 pounds. Our journey was amazing, as well as epic. We were in labour for 5 days- and had to venture from the planned home birth into hospital on the 4th day. All I can say is that the Hypno Birthing- though didn't take all the pain away- really got us through the whole adventure; while we were at home it kept us both really calm and focused; ash's role was SO important- to keep reminding me to remain relaxed and of the right breathing- without being relaxed between each surge, there simply would have been no way I would have had the energy to make it through the 5 days; when we finally came to the decision to go to hospital it was a positive & clear choice. The hospital were amazing and totally supportive of our Hypno Birthing plan- and even after 5 days he was born drug free and naturally. The whole Hypno Birthing technique was such a grounding for me especially towards the end when I was totally exhausted- all those affirmations came flooding through to keep me positive and in the room! We now have a beautiful little boy and he is so incredibly calm- he just looks around taking in the world!!!!!! Its amazing! We both want to thank you once again!!! Warm regards Monique, Ash and Indi
Debra & Richard
Hello! Sorry this has taken so long to do! Miles Richard John Welsh was born on 18th May 4:13pm weighing 6lb 12oz.  We had a very unexpected turn of events during our birth!  We decided on a home birth in the end and were all set, and really looking forward to it all.  I went into labour at 40+3 in the morning – and laboured at home very well.  The midwife came and when she examined me I was 6cm already...and it didn't take long after that until I was fully dilated.  At this point the surges were very powerful indeed and quite overwhelming and I had started using gas and air, more to help me focus than anything.  I found the Hypno Birthing very useful especially in the early stages which went by very quickly as I was so relaxed!  Anyway just as I was ready to breathe Miles out he pood and it came straight out from me – it was at this point the MW realised he was in fact breech!  Due to the poo I had to be transferred into Redhill hospital which was extremely uncomfortable to say the least, all the while the MW literally holding him in as his bum was crowning begging me to push (over which I had no control!)  We got to hospital in 20 minutes and I gave birth 30 minutes Other than the minor incident of transferring to hospital it was a perfect birth, and even though it didn't go to plan I was so grateful for the course we did which helped me stay relatively calm and somehow able to cope when it all went very differently to we planned!  I was only in labour for 6.5 hours which is great, I had the number 6 in my head for weeks before for the length of my first stage for some reason and this is what it was!  The MW said that if he had of been head down he would have been born 20 mins after I was fully dilated. Luckily we did book the home birth and that the fact he was breech was not spotted until the last minute otherwise I am told it would have been a C-section for us and no home birth in the future either!  We are not sure how it was missed, at every visit I was told he was head down and my MW who has been practicing for 30 years said this is the first one she missed!  They think he had been head down for a long time. Lots of love, Debra, Richard and Miles xxx
Rachel & John
Hi Sonia I hope this is the right email address for you . It's Rachel and John we did the Hypno Birthing with you in June! Just letting you know we had a beautiful baby Boy last week. I had no pain relief just gas and air. I was 9 centimeters dilated when I got to hospital and our son was born 1 hour and 45 mins later. I felt really focused and in control and believe the Hypno Birthing really helped I was even eating sandwiches in between surges! I felt really empowered! And john was great to! Thanks again for your classes! Love from us all
Marina & Brandon
Hi there A message for Sonia Just wanted to let you know that I think the reflexology session last Tuesday kicked labour off, I gave birth to our little boy last Wednesday at 08.13 at home, having gone into labour at 11.15 the night before! It was a fantastic experience, and the Hypno Birthing techniques helped Brandon and I share this wonderful event. The midwife with us at birth actually said that it was one of the calmest most beautiful births she had ever seen! We haven't got a name for our boy yet but he is very happy, though he prefers to be awake at night rather than the day. Thanks for the course and for the reflexology session. We are now real advocates for Hypno Birthing and will share your details with those we meet who are interested in finding out more. All the best Marina
Isabel & Adam
Dear Sonia, just to say that we've had a baby girl yesterday. She is called Natalie Anna. I'm sure the Hypno Birthing techniques have helped so thank you very much for all your help. We ended up having a waterbirth at the RSCH with the midwives just "standing by". I birthed her into the water and could pick her up out of the water and cuddle her straight away and walk back to our room with her in my arms. It was wonderful, especially since we had not even really seriously considered a waterbirth. Couldn't have wished for a better birth. Home by 7pm the same day and she has been a star so far. Do you know whether Heather has had her baby yet? Did everything go smoothly? I hope she could have the birth she wanted. Could you please send us the link to the Hypno Birthing website again so that we can register and leave some feedback? Thanks again!!! Isabel and Adam (and Natalie)
Xanna & John
Hi Sonia Arrived on Sat 21st, a couple of weeks early as I had swine flu and it sort of kick started the whole labour thing. The good news is that we were only in the hospital for about an hour and a half before she was born. I didn't panic, I did breathing most of the time and then a lot of shouting, but in a good in control way which helped - and the whole thing was as good as it gets I think! No tearing etc, the 'pushing bit' took 3 minutes - and they let us go home at 2.30am (we had got there at 10pm ish). And the midwife said she was impressed! Xanna and John (and Jasper and Roxy) xxx
Kate & Noah
Hi Sonia, Remember me?!  I did the Hypno Birthing course with you last February. I'm sure you see many people - I have curly hair and my husband is called Noah... I greatly enjoyed the course and it definitely paid off. I had a girl - Ivy - at home on the 23rd of March - my due date. My home birth was amazing and wonderful. No pain relief - 5 hour labour- all manageable. Just as I wanted. Kate, Noah & Ivy x
Annemieke & Chris
Hi Sonia, We've got some good news - we had a boy last Sunday!! The birth was incredibly quick, 6 hours, which was amazing. (it was the number  of hours I imagined, during one of your sessions) I think all the preparations paid of, in terms of breathing and letting it wash over me -although it went all so fast, it was pretty crazy but amazing experience. We are all grand - have been doing a lot of chillin together which has been so nice. Hope al is well with you, Love from the three of us